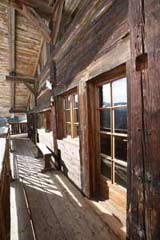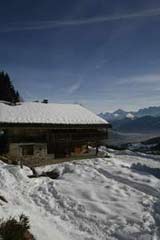 The Chalet "Le Chêne" has existed for a very long time. To be precise, since 1795. The year of construction was engraved on a beam which was a customary practice at the time.


The things which make this chalet so charming : the wood which is ever present, the stone and wood fireplace, the farmhouse style interior, the mountain themed decoration, the tranquility of the area and the magnificent view over the Mont-Blanc mountain range and the Aiguilles de Warens.
You will appreciate the authenticity of this former farm dating back to 1795, all in old wood and completely renovated and done out with all the modern creature comforts.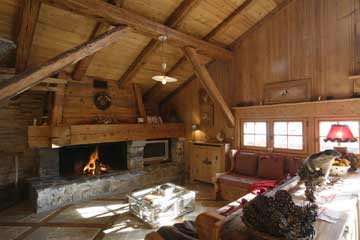 Large living area of more than 100 m²:
Both bar and kitchen and lounge and dining room, this space is simple and open. An old barrel has been adapted to serve as a cooker hood. The wooden boards from the fir tree which form the bar are brushed and polished.
The kitchen is fully equipped: gas hotplates, 2 ovens, a microwave, toaster, coffee machine, kettle, a raclette, a pierrade (a stone grill) and a fondue (cheese melting apparatus), refrigerator, dishwasher and freezer.
The long table in the dining room can seat 10 people.
An old hut built inside the farmhouse also houses a bedroom. It is characterised by its shape, old fir wood sections standing on a platform of wooden strips.
In the lounge around the fireplace : 2 large sofas, a large television with dvd. The firewood is supplied.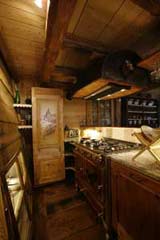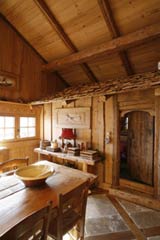 The chalet has 5 bedrooms and 3 bathrooms which can can welcome up to 10 guests.
1 bedroom in the hut containing 2 single beds
1 small bedroom under a sloping wood ceiling with 2 single beds
2 bedrooms with double beds
1 bedroom with double bed
A baby's bed is also available.
A particularity of one of the bathrooms is that the shower is installed in the conduit.
The wash room is equipped with a washing machine, a tumble-dryer and a freezer.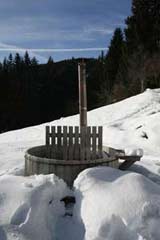 Equipment outsides:
Private car park
A partially wooded terrain of 2 hectares
A partially shaded terrace
A set of garden furniture
Barbecue
Bed linen (quilt covers, sheets and pillowcases)
Tea towels and tablecloths
Firewood
A welcome snack offered upon arrival
TV (Canalsat national channels and channels in English etc..)
Optional services:
Airport transfer from Geneva
Cleaning at the end of the stay
Under certain conditions, a helicopter landing strip can be made available near the chalet.